Kexxel Group: Understand financial outcomes of your strategic decisions with Dr James Hay at the Strategic Finance for Decision Makers Masterclass in Kuala Lumpur this July 2023!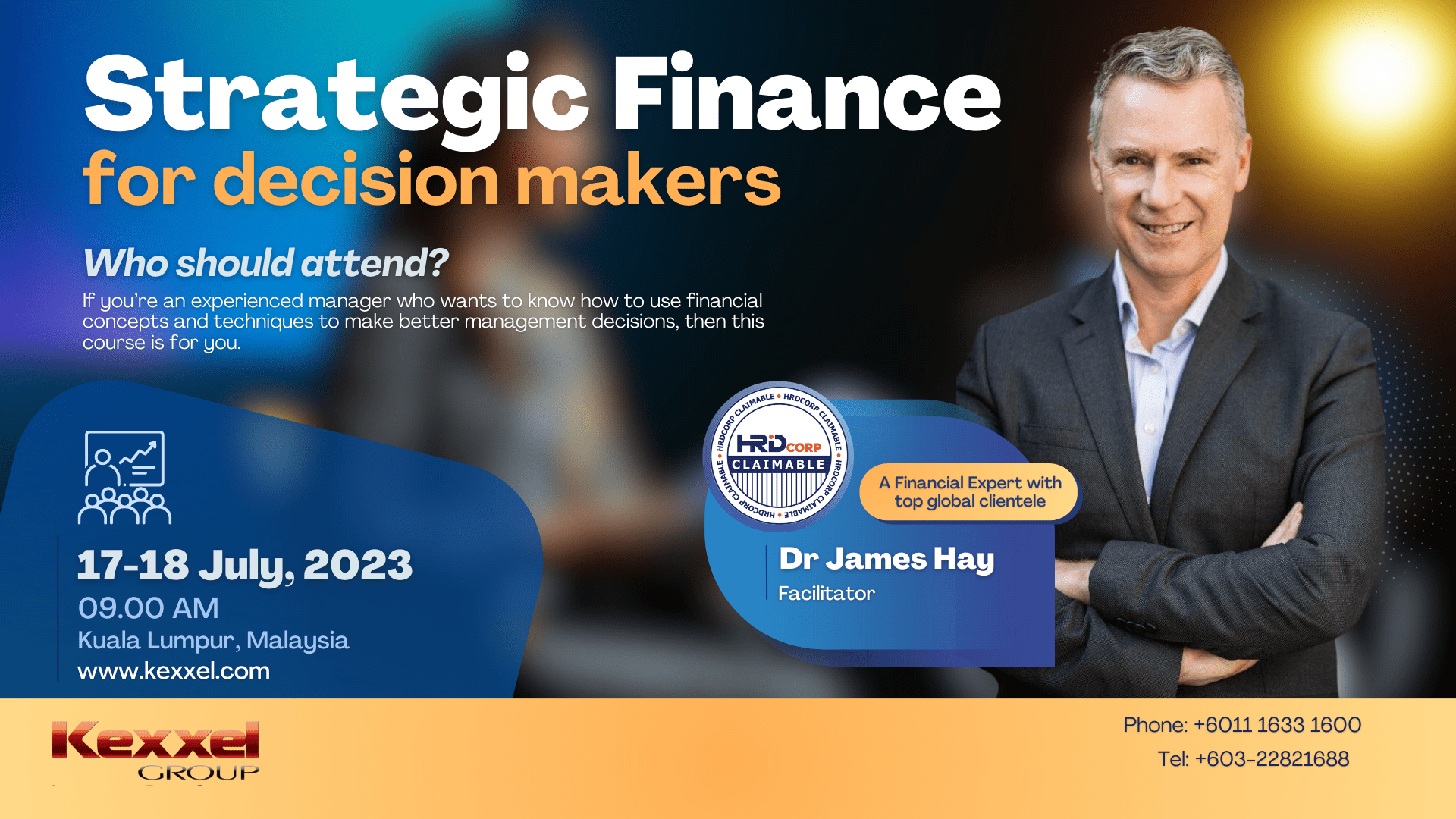 Top Management frequently come from many backgrounds, bringing a wealth of experience (Marketing, Finance, Operations, Strategy), however, they often fail to understand the financial implications of their decisions on the overall company. There is a strong interdependency between finance and strategy, however, most leaders and executives only know one or the other. This July 2023, Dr James Hay will be coming to Kuala Lumpur, Malaysia for his Strategic Finance for Decision Makers Masterclass that will guide both financial and non-financial managers on connecting the most important financial concepts to making critical strategic and financial decisions.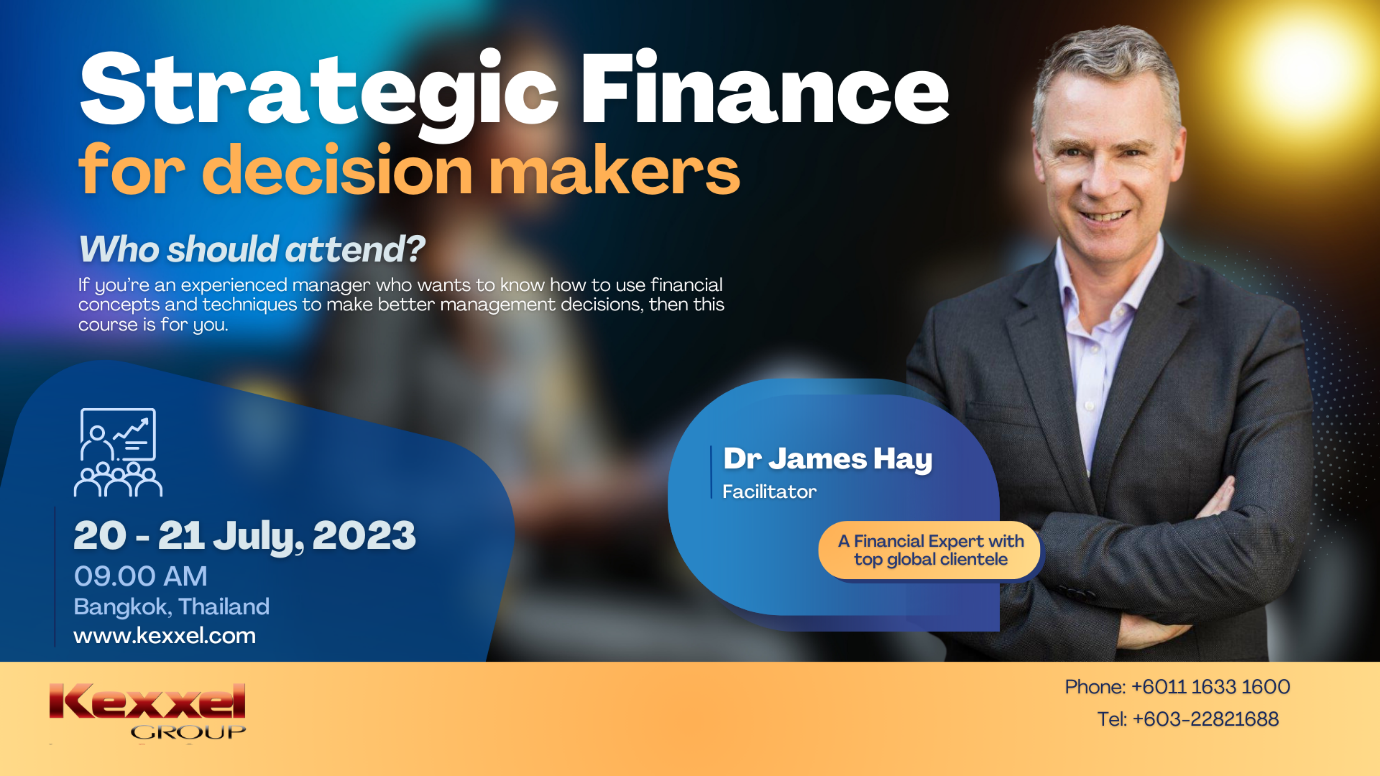 James Hay is a highly experienced and renowned finance trainer with over thirty years of experience. He has worked in risk management, corporate finance, and capital budgeting for some of Australia's largest companies. These include top-tier clients such as Shell, ExxonMobil, General Motors, Petronas, and Petroleum Brunei. He has a strong educational background, holding certificates from The University of Melbourne, Cornell University and Monash University.
He is a sought-after trainer who can provide valuable financial education and investment appraisal services to corporate and institutional clients. His expertise and experience make him the ideal trainer for any business manager looking to enhance their financial knowledge and decision-making abilities.
His masterclass equips experienced managers and leaders with financial concepts and techniques to make better management decisions. Previously attended by companies like Intel, Hitachi, Petronas, Nissan, Changi Airport, Chevron Phillips and many more, discover how companies make financially informed decisions to continuously grow despite economic uncertainty and financial risk.
By the end of this course, you will learn to:
Develop a clear view of how your operational decisions affect financial outcomes
Make better use of financial information to assist you in making better decisions
Have better understanding of the factors that drive profitability and lead to financial success
Understand the critical role of cash flow and know how to manage and forecast cash flow
Understand what financial value is, how to create it and how to measure it
Understand the difference between value and profit, to create economic value in your role
Maximizing capital and managing the balance between financial efficiency and stakeholder expectations
… and much more!
Testimonials
"The concept taught in class is actually very practical and useful for a non-financial person like me. The main strength of the training was the instructor's knowledge."
Lim Seong Leong, Director, Intel Technology
"Understanding the WACC Free Cash Flow was the most insightful part of the event to me. I believe the application of the topics in this course will be useful. The facilitator is a good trainer who can explain difficult things to be easily understood."
Sasithaya Kritayapimonporn – Senior Finance Manager, BCPG
"I enjoyed the training and the program was excellent. The content and delivery of the presenter was very good and understandable."
Abdel Hadi Al-Suhaimi – Executive President, Chevron Phillips
"The training was engaging and able to translate finance into a very business-centric focus. I found the content of the program very good especially for those who do not have finance background. The trainer I think is very good, very business savvy, mixes financial terms with technical terms It is helpful to understand things from a finance perspective. Yes, I would definitely recommend others to attend."
Sharifah Noralina bt Syed Yassin – HR Director, Dutch Lady Milk
"The topics and content of first three days were essential to me. I believe they are the important part of financial strategy and they can be applied directly to my role. The trainer can explain something complex in simple terms and I have really appreciated that. I enjoy all four days and the course has met my expectations. Thank you for making this subject simple! The content of this course is very precise and easy to understand with good tool kit. Kexxel Group is a professional training provider with variety of practical courses that can improve business."
Visith Chongswatvorakul – Head, Capital Project Development, Osotspa
"The trainer was able to synthesize the key points for managers and explain concepts with simple examples. The main strength of this event was that the course caters to participants without a financial background as well."
Phau Hui Hoon - Associate Director, Changi Airport Group
"Understanding financial management overview and financial ratios were great to me as I believe the concepts would bring support to my work."
Kesinee Sukhontaros – Senior Manager, Managerial Accounting, BCPG
"I found the trainer to be very good as he explains well in layman terms that make non-finance managers have a deeper understanding of each finance term. He was definitely the main strength of the event. The event was well organized and the Kexxel team was friendly."
Anis Nah Wan- Strategy & Business Planning Manager, Tenaga Nasional Berhad
"The fact that the trainer is an experienced presenter is abundantly evident from his lectures, which combines academic and practical real cases studies, presented in a lean and easy to understand manner to non-finance people like me. Kexxel Group produced an impressive and well-organized event."
Datuk Dr. Aizai Azan Abdul Rahim – Chief Clinical Officer, National Heart Institute
"An excellent presenter & course content was very useful. Excellent organizers! I have been in this industry for 20 years. I think this event is good exposure for non-financial people. The trainer was quite comprehensive, not that difficult to understand. I like the content, it refreshed my memories. I would recommend it to others definitely. Service and program were good. "
Azmi Abu Samah – General Manager (Operations), Sime Darby Engineering
"Very good program, very nice, very informative speaker and presenter, very easy to understand the module presented for both beginners and advanced users. In terms of relevance to our business, yes for those who have great exposure to finance, this is very good program for them. I would like to recommend to every executive regardless they are in product development or engineers because one way or another they actually have to understand finance figure. We actually see that it is very useful and we would recommend it to other staff within our organization."
Khaidhir Elias - Vice President – Marketing, Telekom Malaysia
For more information, please visit https://kexxel.com/event/strategic-finance-for-decision-makers1/details.
Look out for our special 3+1 package available for this course!
We also can conduct an In-House Training in your own company for this topic or any other topic of interest. All you need to do is just to drop us an email at iht@kexxel.com!
Contact:
Yazmeen Lee
Project Manager International Events
Kexxel Group
T: +603 2282 1688
Fax: +603 2283 5088
About Kexxel Group
Pioneering business events in live and virtual spaces, we provide advanced technological platforms for global professionals to meet, learn and network. A leading business intelligence company, we deliver top-flight learning and networking opportunities to Blue Chip Companies in Asia, and the Middle East via international business conferences and corporate training.