KEXXEL GROUP: GET AHEAD OF THE GAME AND LEARN FROM THE BEST! JIM BERGMAN, THE COMMERCIAL CONTRACT EXPERT, IS COMING TO KUALA LUMPUR & DUBAI TO TEACH YOU HOW TO NAVIGATE ESG TENDERS AND CONTRACTS WITH EASE!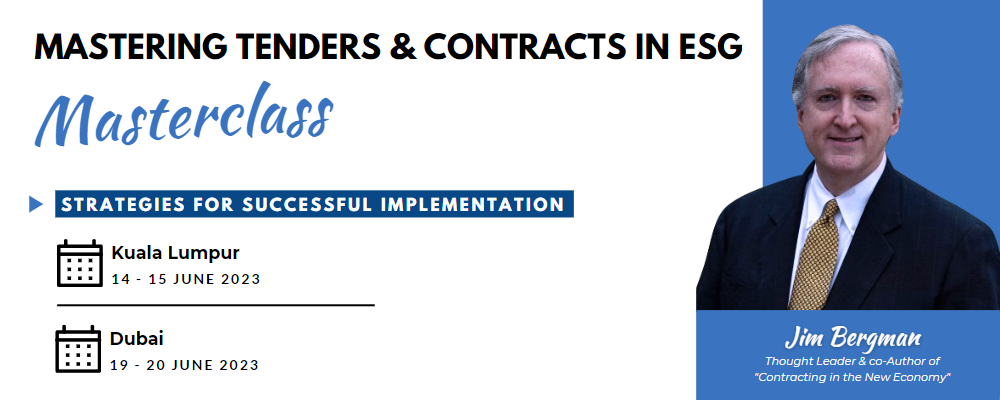 The contracting and tendering Guru, Jim Bergman is set to take Kuala Lumpur and Dubai by storm on 14th - 15th & 19th -20th of June respectively. He will be showcasing the best ESG practices and winning strategies in procuring contracts and tenders in a highly interactive and practical 2-day workshop – Mastering ESG Tenders and Contracts.
The main objective of this training program is to equip delegates with the knowledge and skills required to integrate ESG factors into their tendering and contracting processes. Through this program, participants will learn strategies for successfully implementing ESG considerations in all stages of tendering and contracting, including creating, negotiating, and managing tenders and contracts. By the end of this program, delegates will be better equipped to contribute to more sustainable and socially responsible outcomes in their organizations.
Jim Bergman is a leading expert with comprehensive knowledge of contracting and negotiation in supply management and sales contracting. His experience in developing, negotiating and managing contracts spans across an array of projects with multiple clients in multiple sectors. As a strategic management consultant, Jim has guided countless clients through all phases and steps of contract development, contract drafting, contract negotiation and contract management processes, demonstrating savings in excess of $300 million. His audiences and clients have included attorneys, plus financial, operational and sourcing professionals from multinational corporations and the public sector, including DuPont, ExxonMobil, FedEx, GASCO, Johnson & Johnson, Maxis, and many more.
What will you learn by the end of this course?
Understanding the importance of ESG initiatives in supply chains
Identifying potential risks and shortcomings in tendering and contracting practices related to ESG
Developing effective tendering and contracting strategies for ESG initiatives
Learning market approach strategies, negotiation models, and post-award contract management strategies
Applying the new perspective gained from the workshop to job requirements
Succeeding in the ESG-driven economy by implementing effective tendering and contracting strategies.
Testimonials:
"Jim delivered the training well by providing an in-depth understanding about the principles of contract management." Mohd Norhatta Bin Azhar – AGM, Contract Management, Velesto Drilling
"The main strength for me was the practical examples given. To those who have yet to attend this training, I would definitely encourage them, especially to those involved in negotiation as Jim does not only share theoretical concepts but really more real-world experiences which are of high value. I would like to give credit to Kexxel Group as this is my second event here. Their selection of speakers are excellent." Hasfizal Bin Mukhtar – Senior Manager, Chemical Company of Malaysia
"One thing that Jim has instilled in me is to have as much clarity and trust in the contractual relationships, so it brings value to both parties engaged in a contract to get a win-win negotiation. The topics discussed were great as Jim Bergman is an excellent speaker." Mohamad Halil Bin Haron - Head of Project Management & Control, Tenaga Nasional Berhad
Who Should Attend:
This intensive seminar is designed to help anyone who deals with people. It is particularly well suited to the needs of:
Legal Managers and Support Staff
Tender Managers and Support Staff
Contract and Procurement Managers
Purchasing and Supply Managers
Financial Managers and Auditors
Project Coordinators, Supervisors, Engineers, Assistants and
Administrators
Compliance Managers
Planning Supervisors, Coordinators, Assistants, Engineers
Operations Supervisors, Engineers, Coordinators
For more information, please visit our website at www.kexxel.com.
Kindly acknowledge that there is a special 3+2 package available for this course! If a company decides to register three delegates, they will be entitled to register a fourth and fifth delegate for FREE! We highly encourage you to take advantage of this special offer for your own benefit as an investment to your company.
If you have more than 16 delegates and would be keen to conduct an In-House Training in your own company for this topic or any other topic of interest for that matter, just give us a buzz or forward your enquires to iht@kexxel.com and we will definitely strive to present the best for you! Book now and save up to 50% on the whole cost of the event!
Contact:
Eliza Yeo
Project Manager International Events
Kexxel Group
T: +603 2282 1688
Fax: +603 2283 5088
E: eliza.yeo@kexxel.com
About Kexxel Group:
Pioneering business events in live and virtual spaces, we provide advanced technological platforms for global professionals to meet, learn and network. A leading business intelligence company, we deliver top-flight learning and networking opportunities to Blue Chip Companies in Asia, and the Middle East via international business conferences and corporate training.