Kexxel Group: Robert Bradford, the strategic expert that earned $50 billion for clients, is coming this March 2023 for the Simplified Strategic Planning Masterclass!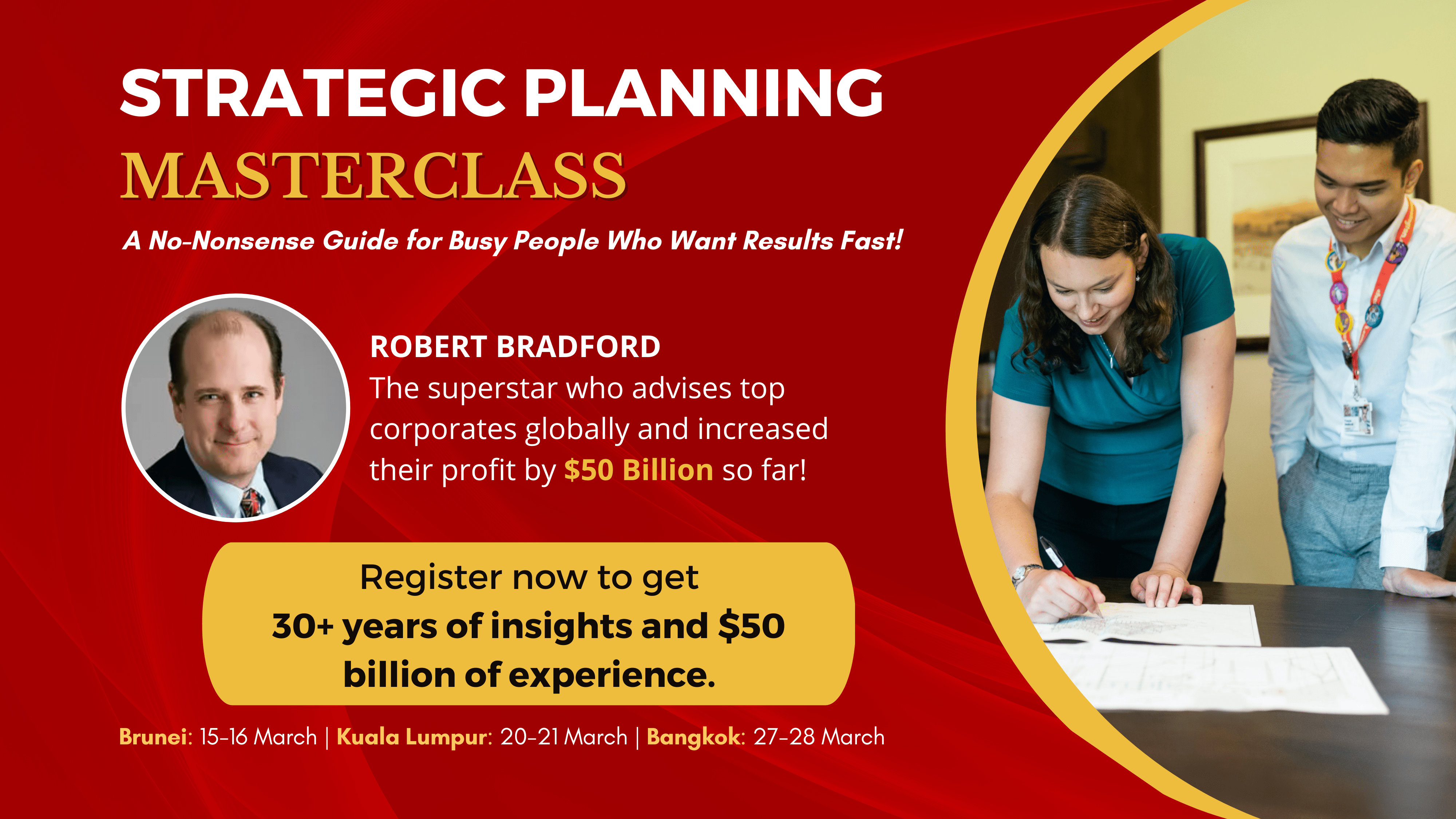 Are you looking for ways to increase your company's profits and stay ahead of the competition? Then you won't want to miss the Simplified Strategic Planning Masterclass with Robert Bradford, the global strategic planning expert. With over 20 years of experience leading strategic planning in companies of all sizes, Robert has helped his clients increase their net profits by over $50 billion.
In this masterclass, you will learn how to create a strong strategic team, dominate your market, measure key success factors, find your unique strategic competency, select and exploit the best opportunities, protect your company from potential threats, determine your strategic focus, and effectively use your strategic plan. These actionable steps and tools will equip strategists of any level with the knowledge to create a thorough yet simple plan that can overcome any complexity faced.
Robert's unique combination of broad knowledge and humorous insight has made him a sought-after speaker worldwide. His seminars go beyond the tired old cliches of strategic planning and provide real-life applications based on his real-world management experience and Ivy League MBA. Companies such as Petronas, Maybank, BMW, and Pfizer have already attended Robert's masterclasses and seen significant improvements in their strategic planning.
Don't miss this opportunity to learn from a global strategic planning superstar and improve your company's future success. The Simplified Strategic Planning Masterclass with Robert Bradford is coming to Malaysia, Thailand, and Brunei this March 2023. Register now and see the difference a great strategic plan can make for your business!
Testimonials
"He has wide and vast experience. We were able to relate to case studies/samples beyond theories as the insights, case studies, and examples that are given are resourceful and enlightening."
Najiha Hambali - Manager, Group Strategic Communications, Petronas
"I would say he is excellent and he knows the subject very well and he can talk and deliver. Basically what I can see in general is everybody is participating and happy with this course and I hope that you as an event organizer should conduct this and continue making these courses in the future."
Md Razip Mohd Yusof - General Manager, Asset Operation, Tenaga Nasional Berhad
"The trainer was very hands-on, relevant, fun, knowledgeable, and efficient in his time management. The main strength of the event for me was the experience and knowledge of the trainer. Kexxel Group did a very good job in selecting facilities and trainers."
Dk Nurul Afizah Pg Omar- Manager, Strategic Planning and Management, Royal Brunei Technical Services
"Great Course! I have a clear understanding of some of the important approaches during the strategic planning process which I have never thought of before. This program was very nicely arranged, it left me with many useful tools and knowledge such as how to measure performance, how to maintain schedules that fit the company and how to prepare action plans."
Kelly Ngo – Head of Controlling, Unified National Networks Sdn Bhd
"The main strength of the event is the session on strategic assessment. Furthermore, Robert is great as he is full of experience!"
Srichittra Pramejaney– Executive Vice President, Bangkok Insurance PCL.
"The training by Robert Bradford was informative and he was interactive with all the participants. A great environment to learn."
Wongsakorn Sirimongkolkasem – General Manager, Krungthai Food Public Co. Ltd.
"For me personally, this course is easy to understand and the trainer's sharing is really fruitful!"
Latchida Apaphant– VP, Corporate Strategy, Airport of Thailand
For more information, please visit https://kexxel.com/events.
Look out for our special 3+1 package available for this course!
We also can conduct an In-House Training in your own company for this topic or any other topic of interest. All you need to do is just to drop us an email at iht@kexxel.com!
Contact:
Yazmeen Lee
Project Manager International Events
Kexxel Group
T: +603 2282 1688
Fax: +603 2283 5088
About Kexxel Group
Pioneering business events in live and virtual spaces, we provide advanced technological platforms for global professionals to meet, learn and network. A leading business intelligence company, we deliver top-flight learning and networking opportunities to Blue Chip Companies in Asia, and the Middle East via international business conferences and corporate training.