Kexxel Group: Simon Banks, an accomplished author and international keynote speaker, is set to lead a Design Thinking Mastery workshop in Kuala Lumpur and Bangkok this December 2023!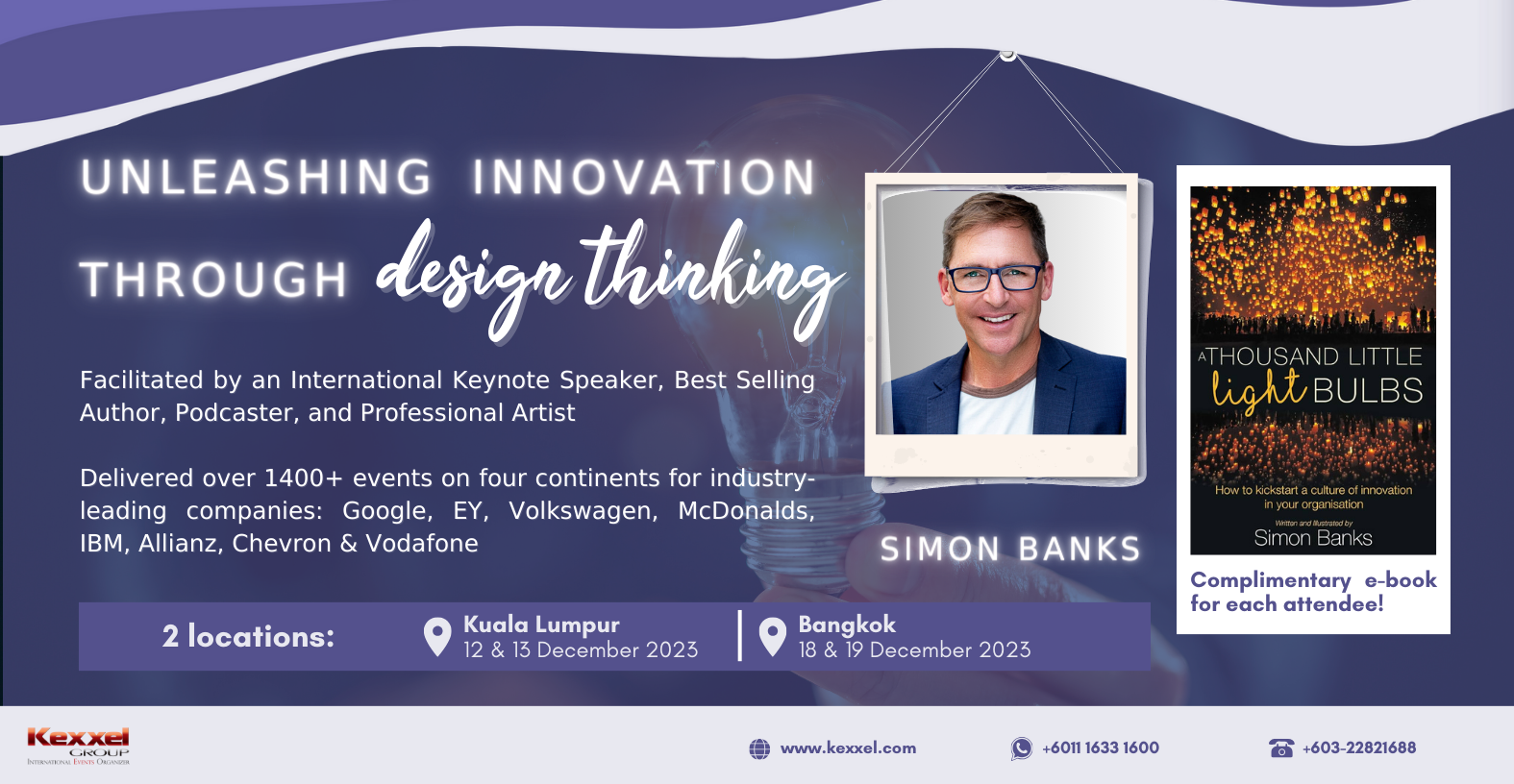 Kexxel Group invites you to stay at the forefront of innovation and learn from the best! Most sought after facilitator and expert in Design Thinking, Simon Banks, is coming to guide you through an inspiring journey of creativity and problem-solving in Kuala Lumpur & Bangkok, in December 2023. In this dynamic and interactive 2-day workshop, "Unleashing Innovation Through Design Thinking," you'll gain invaluable insights into the world of design thinking, equipping you with the tools and techniques needed to spark innovation within your organization.
Simon Banks is a renowned creativity, innovation, and design specialist, celebrated international keynote speaker, accomplished author, podcast host, and former professional artist. With a track record of delivering over 1,400 events across four continents, Simon has left an incredible mark on top-tier companies like Google, EY, Volkswagen, Toyota, Allianz, American Express, IBM, Commonwealth Bank, Schindler, Chevron, McDonald's, Pfizer, AstraZeneca, Vodafone, and many others.
Simon's unwavering passion lies at the intersection of creativity and design, driven by his endless curiosity, a desire to foster connections, and a profound commitment to his craft. Combining his two-decade corporate experience with an artist's perspective, he is on a mission to catalyze a world that champions creativity and innovation. Simon's vision is to empower businesses to excel in the modern age by embracing cutting-edge reimagination, co-creation, and radical collaboration, ultimately generating tangible results and nurturing a culture of innovation.
What You Will Learn By The End of This Course
By the end of this course, participants will learn how to;
- Develop a creative problem-solving innovation framework.
- Build the mindset, behaviours and confidence.
- Develop multiple frameworks for ideation and divergent thinking to develop novel solutions to complex problems.
- Understand how to create rapid prototypes and early-stage concepts to test with users and find out what they really value.
- Develop a deep curiosity to enable everyone to look for efficiencies and areas for transformation and innovation, big or small.
- Understand the importance of empathizing with customers.
Testimonials
"I would like to thank you for your role as facilitator at the Department of Transport and Main Roads DG Customer Led Innovation Challenge. Your role was integral to making the day a success and was greatly appreciated by myself and all the participants."
Neil Scales, QLD Department of Main Roads - Director General
"From the outset of our engagement with Simon, it was very clear how he could help our team to better solve business problems by avoiding tunnel vision thinking and improving the ROI of our most valuable resources, our people. His design thinking approach has helped accelerate our team development journey and has already started to produce great outcomes by making sure that the team focus on ready-to-use outcomes which are equitable, enjoyable and most importantly useful. Guaranteed, I would love to work with Simon again."
Nigel Nisbett, Asia Pacific & Japan, Boomi - Director of Professional Services
"Simon kept delegates engaged in the virtual world, reminding attendees to tap into their creative thinking and facilitating great discussion and thought. Simon's attention to detail and professionalism is evident in the way he prepared for the conference, ensuring he had strong program content knowledge so he could engage with expert speakers and delegates successfully. We look forward to working with Simon again, hopefully to experience all he can offer in a face-to-face environment!"
Jacqueline Brinkman, Economic Development Australia - Chief Executive Officer
"With you, we were able to create an event that truly commemorated the creativity that drives our industry, unpacked the curiosity that underlies every great idea and celebrated the power of storytelling in every way. Every single attendee that I spoke to was inspired by the power of the insights that you shared, and your transparency in doing so. Thanks so much for your energy, enthusiasm, transparency and most importantly – time."
Shane Allison, Public Relations Institute of Australia - President
For more information and registration, please visit our website at https://kexxel.com/event/unleashing-innovation-through-design-thinking/details
Look out for our special 3+2 package available for this course!
We also can conduct an In-House Training in your own company for this topic or any other topic of interest. All you need to do is just to drop us an email at iht@kexxel.com!
Contact:
Eliza Yeo
Project Manager International Events
Kexxel Group
T: +603 2282 1688
Fax: +603 2283 5088
About Kexxel Group
Pioneering business events in live and virtual spaces, we provide advanced technological platforms for global professionals to meet, learn and network. A leading business intelligence company, we deliver top-flight learning and networking opportunities to Blue Chip Companies in Asia, and the Middle East via international business conferences and corporate training.