KEXXEL GROUP: THE WORLD'S LEADING AUTHOR ON SUSTAINABILITY, PETER MCATEER TO GUIDE BUSINESSES IN KUALA LUMPUR, SINGAPORE AND DUBAI TO STAY AHEAD OF THE SUSTAINABILITY CURVE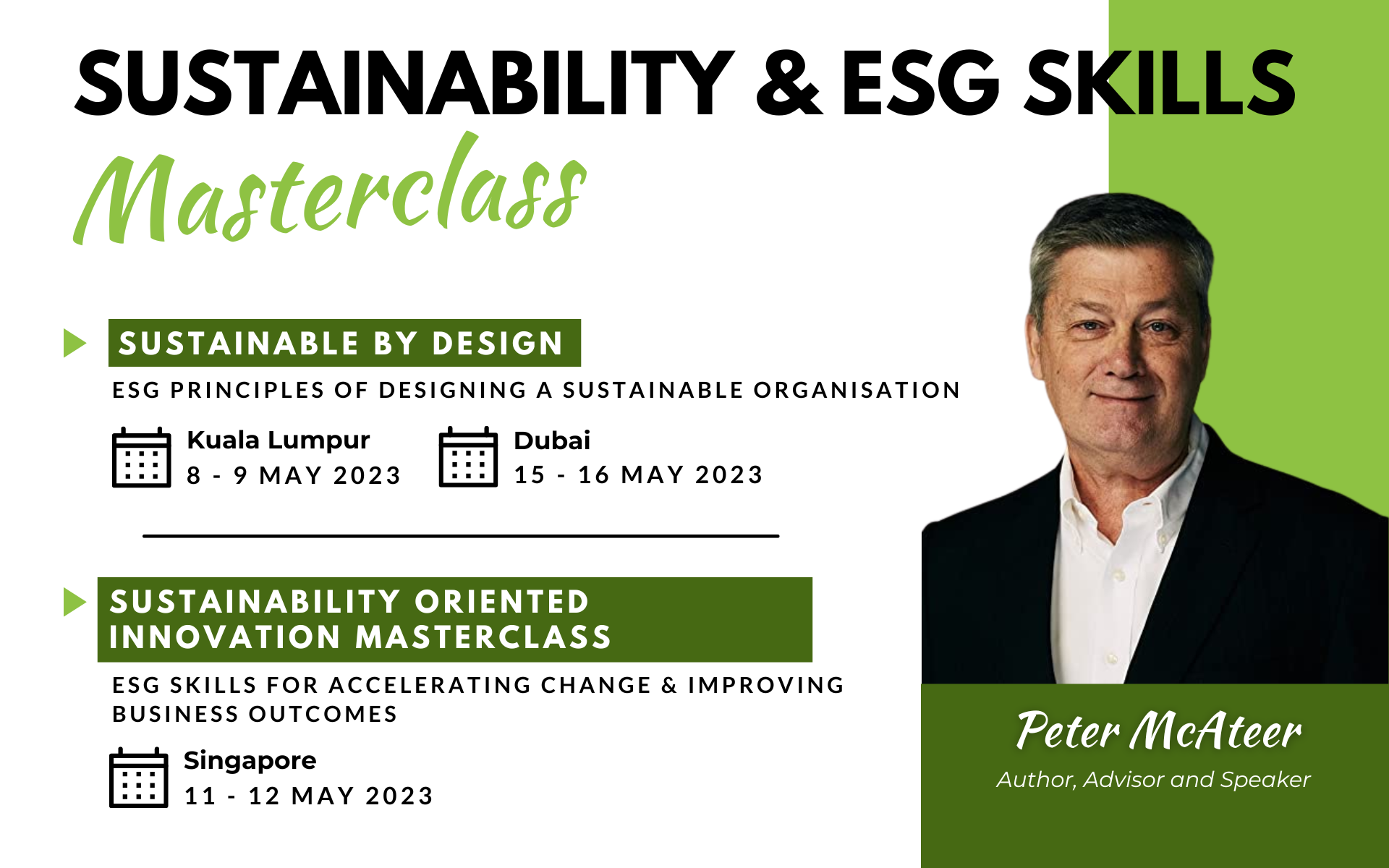 Kexxel Group is proud to announce its upcoming ESG Masterclass, set to take place in three major cities - Kuala Lumpur, Singapore, and Dubai. The event is scheduled for 8-9 May 2023 in Kuala Lumpur, 11-12 May 2023 in Singapore, and 15-16 May 2023 in Dubai.
The ESG Masterclass is an intensive two-day training program aimed at providing participants with a comprehensive understanding of Environmental, Social, and Governance (ESG) considerations and how to integrate them into their business strategy, operations, and innovation process. With sustainability becoming an increasingly important aspect of corporate strategy, this masterclass is designed to equip business leaders, executives, and managers with the essential skills and knowledge necessary to succeed in today's rapidly evolving business environment.
The ESG Masterclass will be led by industry expert, Peter McAteer with an extensive experience in advising global businesses on ESG strategies and practices.
The Malaysia and Dubai events will focus on "Sustainable by Design - ESG Principles of Designing a Sustainable Organisation." This topic will provide participants with a deep understanding of how to design and implement ESG principles into their organisation's strategy and operations to create sustainable businesses. The Singapore event will focus on "Sustainability Oriented Innovation Masterclass - ESG Skills for Accelerating Change & Improving Business Outcomes," which is designed to provide participants with practical skills to accelerate ESG implementation and drive positive change in their organisation.
Click here to register!
Why attend:
Speed up and participate in the ESG reporting economy with a robust understanding of related implications
Strengthen your grasp on ESG principles and how they can be integrated into your organisation's strategy
Learn how to connect all ESG-related issues and make progress towards sustainability by adopting sustainable business models.
Discover practical strategies for designing a more sustainable organisation and creating long-term value for all stakeholders
Hear real-world examples of companies successfully implementing ESG principles and the benefits they have seen
Network with other leaders and professionals in the sustainability space and share insights and best practices
Who should attend:
Board Members and Directors
CEO, Managing Director or President
Chief Sustainability Officer or Head of ESG
Corporate Lawyers and Government Affairs specialists
C-suite executives (CFO, COO, CMO)
Environmental Health and Safety specialists
Human Resource Managers and Employee Wellness specialists
Risk Managers and Compliance Officers
Supply Chain and Procurement Managers
Sustainability and Corporate Responsibility Managers
For more information, kindly visit our website at www.kexxel.com.
Kindly acknowledge that there is a special 3+2 package available for this course! If a company decides to register three delegates, they will be entitled to register a fourth and fifth delegate for FREE! We highly encourage you to take advantage of this special offer for your own benefit as an investment to your company.
If you have more than 16 delegates and would be keen to conduct an In House Training in your own company for this topic or any other topic of interest for that matter, just give us a buzz or forward your enquires to diana.nadirah@kexxel.com and we will definitely strive to present the best for you! Book now and save up to 50% on the whole cost of the event!
Contact:
Diana Nadirah
Project Manager International Events
Kexxel Group
T: +603 2282 1688
Fax: +603 2283 5088
E: diana.nadirah@kexxel.com
About Kexxel Group
Pioneering business events in live and virtual spaces, we provide advanced technological platforms for global professionals to meet, learn and network. A leading business intelligence company, we deliver top-flight learning and networking opportunities to Blue Chip Companies in Asia, and the Middle East via international business conferences and corporate training.